30/04/18 15:00
So the Salon has been buzzing with the latest treatment to be added to our menu. We placed an advert in the local 'Down South' Magazine with a coupon for a £15.00 saving on the lash lift treatment. Usual price £40, introductory Offer price £25! The result being I have been booked continuously every Wednesday & Thursday throughout April. It's been lovely welcoming lots of new clients to the salon, brought in by the magazine offer, but also our regular ladies have been taking the plunge too! Many have consented to me posting their before & after pictures on social media so take a look.

So "what is a lash lift"?

I use little shields on your eyelids to hold your lashes in a 'maximum curled' position, much to the look post applying layers of mascara or using curlers. I then treat the lashes with different serums, lotions & conditioners. The treatment is non invasive, it's not painful or uncomfortable, you just need to keep your eyes closed during the treatment, but I make sure you are completely comfortable with the eye shields and protective under eye pads before I start. The serums, lotions & conditioners make the lash hairs playable and I can mould their new shape and then set it and condition them.

"How long does it take"?

I allow a full hour for the lash lift treatment, but it takes about 40mins. I include time for consultation, checking any contraindications and assessment of the clients eyelashes.

"How long does it last"?

I give a 6 - 8 week guide, it depends on your own lash growth cycle, you may get longer? From your baby new lashes to grow to the end of their life and drop out is a full 'lash cycle'. The lift doesn't drop, they are permanently moulded, it's when they have dropped out and new 'straighter' lashes take their place. Unlike the old fashioned lash perms of the 00's, you don't have to wait a full lash cycle for another treatment, these products are not as harsh on your lashes as the old lash perm.

"How do I book"?

Appointments are only available with me (Clair), so lash lift treatments can only be booked in on Wednesdays or Thursdays, although I am doing some extra Fridays in May & June! (I'll list the dates under the blog post). You will need to have a skin patch test prior to your appointment, at least 24 hours. You can have your skin test weeks in advance, you can have a skin test even if you are unsure about booking and just want to see how you get on with the products, having a skin test is no commitment to having to book the treatment so don't worry, just pop in the salon and the patch test takes literally two minutes.

"Is there any maintenance involved after my treatment"

Nope! You don't need to return to the salon for 'top ups', your lashes are good to go! Perfect for holidays, and being makeup free! Just follow the aftercare of keeping them dry for 24 hours and use your little brush in the mornings in case they're a little fuzzy from sleeping. If your looking to boost your own lashes and brows, we sell a 10ML serum for £7.50 which conditions your lashes and brows. It's not essential, but those who have ever 'over plucked' their brows could definitely benefit ha ha!

"What do I get for my money"?

Good question, you get your lash lift treatment worth £40, you also get a FREE lash tint worth £7.50. You get a little spooly brush to brush your lashes with at home to keep them in check. Also a complimentary set of collagen eye mask pads to treat your under eye area after your treatment (after 24 hours). I feel this is a great little extra when your at home and want to freshen your delicate under eye area. All in all your getting £50 worth of beauty for £25 if you grab one of the coupons from the DownSouth magazine.

"When does the offer end"?

The magazine coupons expire the end of May, so be quick! We always have a stack of them in the Salon, so grab one when you get your skin patch test or you can download the voucher online!

Click here for link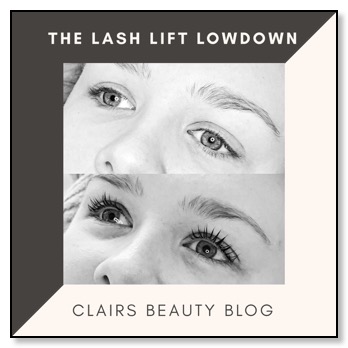 Lash lift treatments available...
Wednesday's 10.30am - 6pm (5pm being the last slot)
Thursday's 10.30am - 7.30pm (6.30pm being the last slot, full disclosure, this last appointment is very sought after and is booked in advance if you are planning ahead I suggest to book ASAP)

Extra days...,
Friday 11th May 10.30am - 6pm (5pm last slot)
Friday 18th May 10.30am - 6pm (5pm last slot)

Friday 1st June 10.30am 6pm (5pm last slot)

Phone the salon direct to book on 0151 724 4088 :)